Hamilton Jewelry Collection
From Sterling, to Vermeil, to Costume. Over 3,000 styles. Contact us today.
Our exquisite jewelry collection is a perfect addition to any silent auction, since it features a wide range of styles and price ranges – there is something for everyone!!
You can choose designer and designer-inspired classic designs, dramatic one-of-a-kind statement pieces, glitzy costume pieces and hand-crafted delicate beaded creations.
Our costume jewelry artists produce the finest quality necklaces, earrings and bracelets, using the finest metals, semi-precious stones and vintage beads in their designs.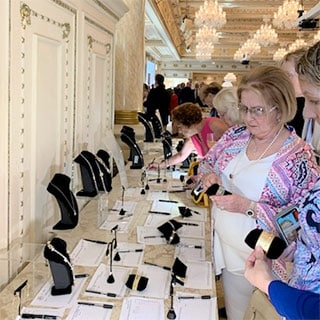 Start planning your next fundraising event
Our consultation calls are free and give you a clear direction on your best next steps to creating a successful fundraising event.
"The display of fine art, sports memorabilia and beautiful jewelry exceeded our expectations and provided something appealing for everyone's taste and budget." Read More
"Hamilton Fine Art led us through all the mechanization of this large endeavor netting AAUW Boca Raton over #12,500 towards Educational Foundation Scholarships." Read More
Get in Touch
Fill out the form below to connect with Janice Hamilton
Headquartered in South Florida